RFM Somnii
PACK FNAC RFM SOMNII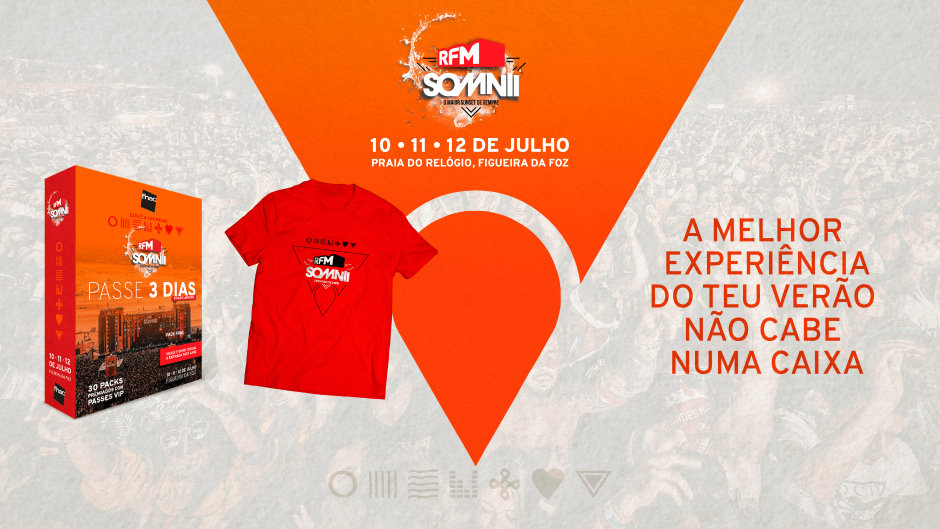 O PACK FNAC RFM SOMNII oferece-te muito mais do que um bilhete! Dentro do teu pack tens um Passe Geral 3 dias para O Maior Sunset de Sempre, uma t-shirt especial desta 8ª edição e ainda acesso exclusivo ao festival pela Fast Lane. Tudo isto para viveres 72 horas de experiências memoráveis!
Como o teu verão não cabe numa caixa, regista-te e habilita-te a ganhar vantagens e experiências únicas para O Maior Sunset de Sempre.
Ao te inscreveres, imediatamente ganhas a possibilidade de usufruir de:
Passatempos exclusivos
Experiências inéditas em toda a Cidade Festival
Descontos imperdíveis em parceiros e merchandising
Informações privilegiadas sobre os artistas e o festival
E muitas outras novidades.
Inscreve-te! A vida é muito curta para que escolhas algo que não te apaixone.
PACK FNAC RFM SOMNII offers you so much more than a 3-day Pass! Inside your pack is a 3-Day Pass for The Biggest Sunset Ever, a special t-shirt from this 8th edition and an exclusive access to the festival via Fast Lane. It's the best way to enjoy 72 hours of memorable experiences!
Since your best summer ever doesn't fit in a box, register your pack and you'll be able to benefit from all the surprises we are preparing for you!
By signing up, you'll immediately get the chance to enjoy:
Exclusive Contests
Brand new experiences throughout the Cidade Festival (Festival City)
Amazing discounts with our Partners and Merchandising
First Hand information about new artists and the festival
And many others!
Sign up! Life is too short for you to choose something that you don't love.
¡ PACK FNAC RFM SOMNII te ofrece mucho más que una entrada! Dentro de tu pack hay un Pase General de 3 días para El Sunset Más Grande de Todos Los Tiempos, una camiseta especial de esta octava edición y acceso exclusivo al festival a través de la Fast Lane. ¡Todo esto para vivir 72 horas de experiencias memorables!
Una vez que su verano no cabe en una caja, regístrate para obtener ventajas y experiencias únicas para El Sunset Más Grande de Todos Los Tiempos.
Al registrarte, inmediatamente tienes la oportunidad de disfrutar de::
Pasatiempos exclusivos
Nuevas experiencias en toda la Cidade Festival (Ciudad Festival)
Descuentos imperdibles en nuestros patrocinadores y merchandising
Información privilegiada sobre los artistas y el festival
Muchas otras novedades
Regístrate! La vida es demasiado corta para que elijas algo que no te enamore.